Current Members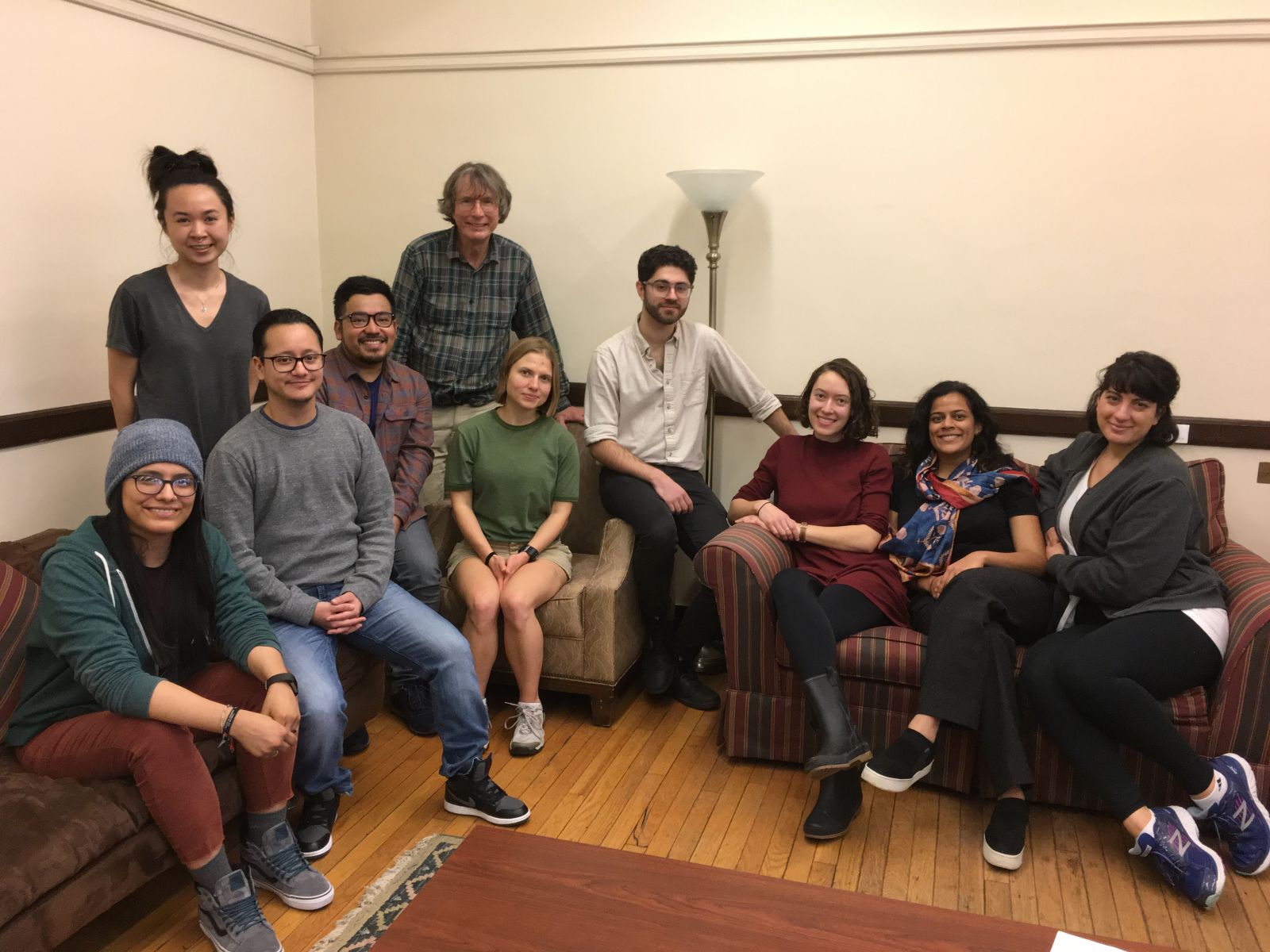 Left to right:
Iliana Y. Rodriguez is a PhD student in American Studies at Yale University. She is interested Latin American, primarily Mexican, migration to the southeastern United States and the role these migrants play in shaping the Nuevo South.
Yuhe Faye Wang is a PhD student in American Studies at Yale University. Her current project focuses on how the increasing formalization of state and corporate bureaucracies, new technological realities, and the changing terms of national, racial, and intimate belonging in 19th century California shaped notions of modernity and laid the foundations for our contemporary institutions.
Damian Vergara Bracamontes is a PhD Candidate in American Studies and Women, Gender, and Sexuality Studies at Yale University. He received his M.A. in American Studies from Yale and his B.A. in Ethnic Studies from UCSD. His research interests are in Ethnic Studies, Latina/o immigration, Carceral studies, and Queer Studies. He is currently working on a project that examines how Mexican migrants in San Diego negotiate illegality under unpredented levels of immigration enforcement. 
Jorge Cuéllar is a doctoral candidate in American Studies at Yale University. He earned his BA in Film & Media and Latin American & Iberian Studies from UC Santa Barbara and an MA in Critical Studies from the USC School of Cinematic Arts. Broadly, his work explores inequality, indigeneity, cultural resistance, and state formation in Central America with special attention to El Salvador. In the Working Group, he has worked on
Michael Denning is the William R Kenan Jr Professor of American Studies at Yale University, and the Director of the Initiative on Labor and Culture. Among his publications are Noise Uprising: The Audiopolitics of a World Musical Revolution (Verso, 2015), Culture in the Age of Three Worlds (Verso, 2004), The Cultural Front: The Laboring of American Culture in the Twentieth Century (Verso, 1997), Mechanic Accents: Dime Novels and Working Class Culture in America (Verso, 1987), and Cover Stories: Narrative and Ideology in the British Spy Thriller (Routledge and Kegan Paul, 1987).
Lucia Hulsether
Peter Raccuglia is a PHD student in English at Yale University. His interests include American literature and music; sound studies; transatlantic studies; media history and theory; history of criticism.
Clara Wilson-Hawken
Salonee Bhaman is a PhD student in the History department  and Women, Gender, and Sexuality Studies program at Yale University. She received her B.A. in history from Columbia University. Her research interests include the history of the American welfare state, policy and reform discourse, and immigration history with particular attention towards questions of race, gender, and political economy in the shaping of American cities and institutions. 
Randa Tawil
Working Group Members in the Field (not pictured):
Courtney Sato received her B.A. in English from Wellesley College and an M.Phil. in Modern South Asian Studies from the University of Cambridge. At Cambridge, her dissertation focused on the aesthetics and intellectual thought of Rabindranath Tagore. Her current research examines transnational Asian and Asian American intellectuals and their lecture circuits in the early 20th century.
Alyssa Battistoni is a PhD student in political science at Yale University and an editor of Jacobin.
Jonny Bunning
Gabriel Winant works on the history of labor, class formation, and political economy in the twentieth-century United States. He is interested in trying to combine political-economic approaches to the history of capitalism, social-historical attention to history from below, and a culturalist emphasis on the formation of individual subjects in everyday practice. His work focuses on the Rust Belt, with particular attention to Pittsburgh and the area around it. On the one hand, he is interested in the decline of manufacturing, industrial unionism, social democracy (such as it was) and the commonsense discourses (particularly racial and gendered ones) that went along with and held together these forms of political organization, social life, and cultural practice. On the other hand, he studies the development of the service-sector working class out of the ruins of manufacturing: in what new ways, and in what old ones, did service workers understand their relationship to their work, their employers, their families, and their broader social worlds?